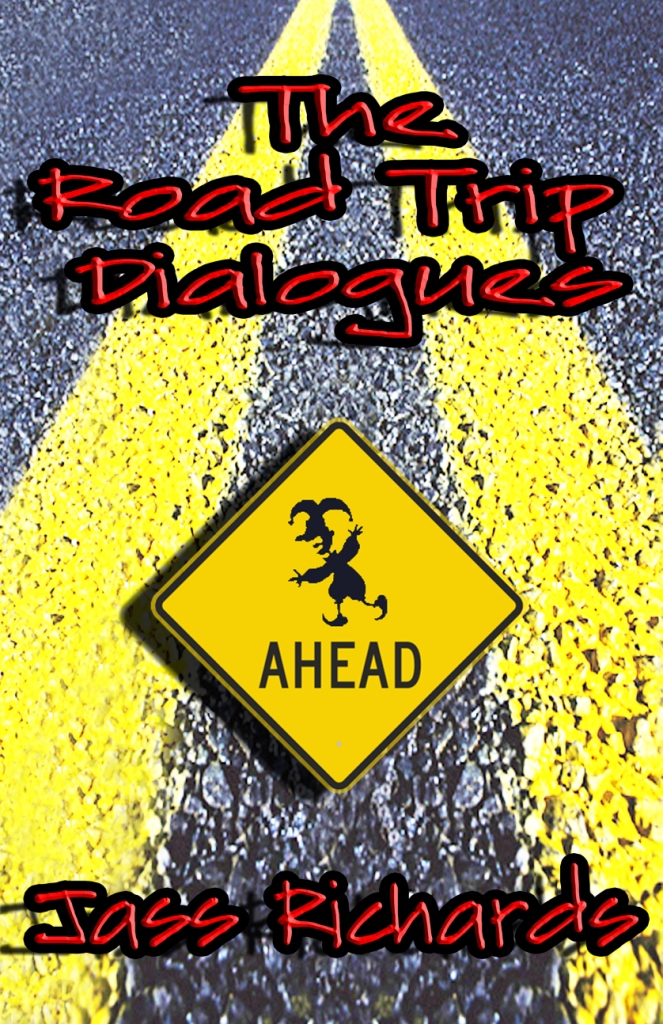 Rev and Dylan are intelligent, sensitive, idealistic, enthusiastic, and – utter failures. When they reconnect twenty years after teacher's college, Rev is en route to Montreal to see the fireworks festival. (Something with great social and political import.) (Oh shut up. I tried. For twenty years. So fuck it.) Dylan goes along for the ride. (Typical.)
The Road Trip Dialogues is a coming of age story. For those in their forties.
Available in Kindle, Kobo, as a NookBook, as an iBook, and however you want it at Smashwords.
Also available in print at Amazon, Barnes and Noble, Indigo, and wherever you buy your books online (and through Ingram).

"I am impressed by the range from stoned silliness to philosophical perspicuity, and I love your comic rhythm." L. S.
"Watched Monty Python and the Holy Grail last weekend. Could only think of Jass Richards and The Road Trip Dialogues… 'Here comes the cow!'" M. Arend
"Rev and Dylan run into each other twenty years after Teachers' College. Rev is on her way to Montreal to see the fireworks and, since Dylan has nothing else to do, he decides to go along for the ride. What follows is a lot of talk about life, feminism, politics, religion, and the nature of cats as well as the consumption of copious amounts of weed and junk food. All of this sounds kinda boring but, really, it wasn't. It was fun and funny and it's definitely the kind of book that makes you think. It also gave me my new favourite Biblical quote, Psalm 137:9. It can really liven up a conversation.  Anyway, if you're looking for adventure, romance, or mystery you might want to skip this book but if you just want a fun read that'll make you think long after you finish the last page, definitely give this one a try."   justmax, smashwords.com
"Just thought I'd let you know I'm on the Fish 'n Chips scene and laughing my ass off."  Ellie Burmeister
"These two need stable jobs.  Oh wait, no.  Then we wouldn't get any more road trips.  Fantastic book which expands the mind in a laid back sort of way.  Highly recommended.   5/5 stars."  lindainalabama