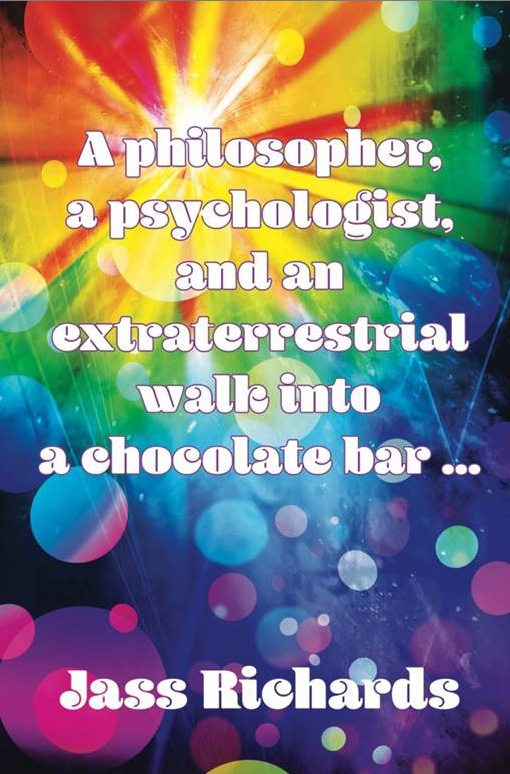 When a self-appointed independent activist and her office-temp-with-a-doctorate buddy embark on a quest for a chocolate bar (a bar that serves not alcohol, but chocolate – in all its deliciously decadent forms), they pick up a hitchhiking extraterrestrial who's stopped on Earth to ask for directions.  Trying to explain Earl (Earth), confronting everyday sexism (rather like bashing your head against a jellyfish), and committing assorted outrageous acts and everyday rebellions, they help 'X' find the information she needs to get back home – and go with her – to become chocolate bartenders.
A radfem romp to make you laugh and think at the same time.
Available in print at Lacuna, Amazon, Barnes and Noble, Chapters, and wherever you buy your books online.
Also available in Kindle, Kobo, as a NookBook, and as an iBook.
If you'd like to submit an entry to be included in Jane Smith's Translation Dictionary, go to the Tumblr page.  If you'd like to read the complete-as-of-now (and alphabetized!) dictionary, click here.
If you'd like to make a submission to Jane's other webpage, "And here's something else that would never happen to a man…," go to this Tumblr page.  You can read all of the submissions-to-date either there or  here.
And feel free to share these links far and wide with like-minded people!  (Spread the word!  Let's go viral!  YAY!)
"Jass Richards is back with another exceptional book that entertains and informs as she mixes feminism, critical thinking, and current social issues with humour to produce a story about two 40-year-old women, Jane and Spike, who set out on a road trip from Toronto to Paris (!) in search of chocolate. (Chocoholics will love this story.) Along the way, they meet up with X, an extraterrestrial who has 'merged' with a black woman's body. X has gotten lost in the solar system and needs to find the space/time coordinates of Earth so she can return to her planet. This changes the plan of Jane and Spike, and they head south to the U.S. looking for the answer from the institutes of higher learning.
If it sounds strange, it's not, really. It gives Ms. Richards a backdrop for her sense of humour as the trio meet the type of stereotypical men that she loves to bash. She also spins out some great dialogues on pornography in society, male dominance of all sectors of society, 'women's fiction,' and there's even a hilarious wedding intervention.  Spike and Jane have fun explaining Earth and it's ways to X, who, of course, comes from a more enlightened world.
Four stars for a fun and informative read.  4/5 stars, James M. Fisher, goodreads