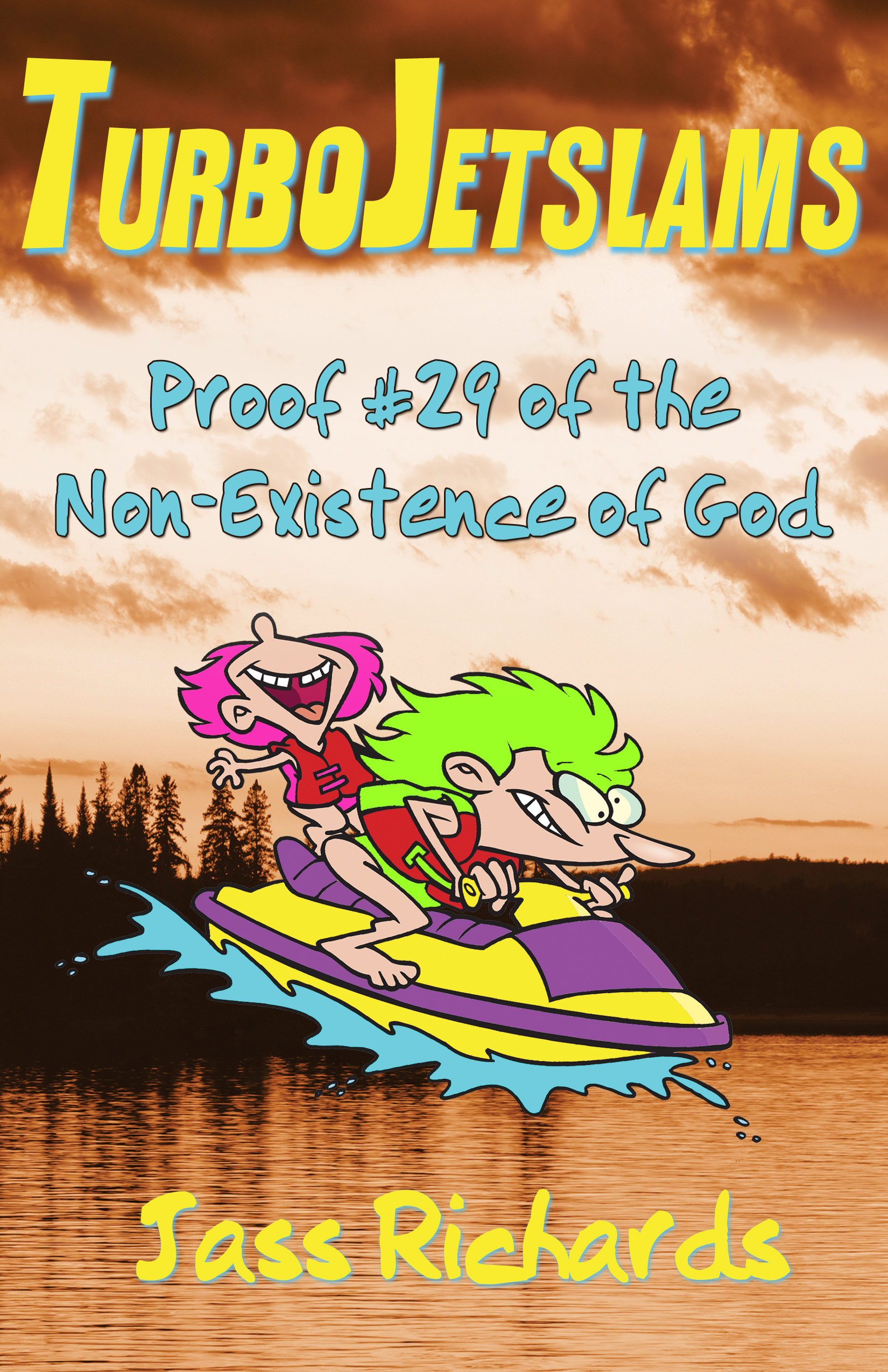 You ever have a neighbour whose behaviour is so mind-bogglingly inconsiderate and so suicide-inducingly annoying that you just want to ask him, in a polite Canadian way, to please stop?
TurboJetslams isn't like that.
This short summer read tells the tale of one person's pathetic and hilarious attempts to single-handedly stop the destruction of a little piece of beautiful Canadian wilderness by the increasing numbers of idiots who couldn't care less.
A perfect cottage-warming gift.

On goodreads' Fiction Books That Opened Your Eyes To A Social Or Political Issue list!
Magenta 2016
Available in various eformats (Kindle, Kobo, NookBook, iBook), but if you'd like an epub or pdf, you can download it right here! For free. (And here's why.)
(If you'd like a paperback version, best to purchase it online–such as at Amazon, Barnes and Noble, Chapters/Indigo, Book Depository, Bookshop–where you can get a deal on shipping.)
"Extraordinarily well written with wit, wisdom, and laugh-out-loud ironic recognition, TurboJetslams: Proof #29 of the Non-Existence of God is a highly entertaining and a riveting read that will linger on in the mind and memory long after the little book itself has been finished and set back upon the shelf (or shoved into the hands of friends with an insistence that they drop everything else and read it!). Highly recommended for community library collections [and] personal reading lists."   Midwest Book Review
"We all very much enjoyed it — it's funny and angry and heartfelt and told truly…" McSweeney's
"If you're looking for a reading snack that has zero saccharine but is loaded with just the right combination of snark, sarcasm, and humor, you've found it. TurboJetslams proved to be a fun diversion." Ricki Wilson, 4/5, Amazon
"This book is mesmerizing, from the mild beginning, through the spiral down into pollution hell and out to the ending. The excellent writing provided me with entertainment, foreboding and a strange combination of disbelief from ideals and belief from experience."  5/5 BridgitDavis, LibraryThing
"Hilarious!  Some people will not like this book. Perhaps most. I loved it since I don't like any type of motorized recreational vehicle. And I like my nature quiet, aside from nature noises. I love the way Vic sabotages her neighbours who just don't 'get it.'"  5/5 James M. Fisher, Goodreads
"I thoroughly enjoyed your novel TurboJetslams. It covers our life at the cottage to a T. Some pet peeves we also endure are, firstly, fireworks. … Booming across the lake at all hours of the night. It used to be a celebration of national holidays, but now having a bonfire has become worthy of that king of celebration every week all summer long. …  We have also witnessed a flock of candles burning in paper bags drifting over the tinder dry forest … "  Jim Miller
"A short book that is fun to read, but makes some solid points about our relationship with nature and rural spaces, and how we can sometimes destroy the thing we say we love about a place.  Favorite Thing: The humorous tone of the writing."  Tungsten Hippo 
"I found it necessary to read the book in one sitting …" Pearl, Amazon, 5/5
"I found this book totally absorbing."  San Francisco Review of Books
"… What Richards has done is brilliant."  Jennifer Jilks, mymuskoka.blogspot.ca